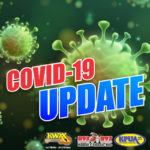 The State Department of Health has confirmed 101 new cases of COVID-19.  That brings the state's total to 13,674, with approximately 2,608 active cases.
The Big Island has 18 new cases.  The Big Island's total count is now 992, with around 219 active.  The island has lost 38 people to COVID-19, although only 18 of those are included in the state total of 183 deaths.  Life Care Center of Hilo has reported one new death today.
O'ahu has added 81 cases today, and Maui County 1, and there is 1 new case in a Hawaii resident out of state.
The State DOH noon report:
Hawaii County
| | |
| --- | --- |
| Total Cases: | 992 |
| Released from Isolation: | 736 |
| Required Hospitalization: | 52 |
| Deaths: | 18 |
Honolulu County
| | |
| --- | --- |
| Total Cases: | 12,176 |
| Released from Isolation: | 9,716 |
| Required Hospitalization: | 849 |
| Deaths: | 146 |
Kauai County
| | |
| --- | --- |
| Total Cases: | 59 |
| Released from Isolation: | 58 |
| Required Hospitalization: | 1 |
| Deaths: | 0 |
Maui County
| | |
| --- | --- |
| Total Cases: | 409 |
| Released from Isolation: | 373 |
| Required Hospitalization: | 57 |
| Deaths: | 18 |
Out of state
| | |
| --- | --- |
| Total Cases: | 38 |
| Released from Isolation: | 0 |
| Required Hospitalization: | 2 |
| Deaths: | 1 |
Pending
| | |
| --- | --- |
| Total Cases: | 0 |
| Released from Isolation: | 0 |
| Required Hospitalization: | 0 |
| Deaths: | 0 |