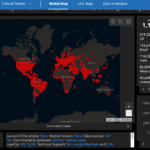 The Johns Hopkins COVID-19 Dashboard for Sunday, October 18, at 5:24 a.m.:
Worldwide cases: 39,775,831    Worldwide deaths:  1,111,224
U.S. cases: 8,123,273   U.S. deaths:  219,466
According to the Dashboard, the reported worldwide case report increased by 330,871 in the last 24 hours.  Deaths worldwide increased by 6,271.
According to the Johns Hopkins Dashboard, the United States has added 61,037 cases in the last 24 hours.  In that time,  the number of reported deaths from  COVID-19 increased by 700.
Yesterday, 17 states reported a record one-day record in new cases.  Many states are seeing record numbers of hospitalizations.
Health experts are concerned about what the country is seeing, which is a third "wave" in daily new case count increases, as illustrated in this graphic by Worldometer.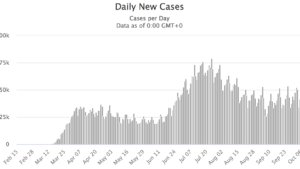 In Wisconsin, 26% of the people tested are showing positive.  In Hawaii, the positivity rate is less than 10%.
On the Big Island, there are several areas with positivity rates of greater than 5% in the last 14 days.  The Big Island now has 1,038 total cases, with 237 active as of Saturday.
The state has a total of 13,949 COVID-19 cases, with 2,768 active cases.
Click here for more detail about the Big Island and state COVID-19 situation.