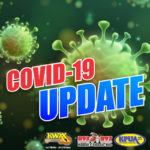 The State Department of Health reports there are 83 new cases of COVID-19 in the state. That brings the state's total count to 14,031, with 2,800 active cases.
The state is reporting 187 deaths. That includes only 18 of the Big Island's 40 deaths. Kona Community Hospital reported one new death of a hospitalized patient on Thursday afternoon, and that facility had one previous death of a patient who had come in to the Emergency Room but was already critically ill. There have been 37 deaths on the East side of the island, plus the two reported by Kona Hospital.  The deaths in Hilo include 7 community members at Hilo Medical Center, 4 at Life Care Center of Hilo, and 27 residents of Yukio Okutsu Veterans Home.
O'ahu has 68 new cases, there are no new cases in Hawaii residents out of state, and Kaua'i has 1 new case, the second day in a row Kaua'i has added a case.  Maui County added none.
The Big Island has 14 new cases. The island's total is now 1,052 total cases. There are approximately 249 active cases. The State Department of Health has personnel assigned to visit daily every person confirmed to have an active case of COVID-19 as well as people with whom they were in contact during their presumed infectious period.  COVID-19 positive people and their contacts have confirmed the DOH is following up, in person.
It's critical for anybody who does confirm as a positive COVID-19 case to inform the State Department of Health who they were in contact with for more than 15 minutes, even if both people were wearing masks.  Ideally, victims would advise their contacts right away, even before DOH calls to do contact tracing so they can isolate from other vulnerable family members or friends.  Anybody who has been a close contact must quarantine for 14 days–i.e. not leave home–but is also encouraged to get a COVID-19 test at one of the many COVID-19 community testing sites.
The State Department of Health report:
Hawaii County
| | |
| --- | --- |
| Total Cases: | 1,052 |
| Released from Isolation: | 763 |
| Required Hospitalization: | 55 |
| Deaths: | 18 |
Honolulu County
| | |
| --- | --- |
| Total Cases: | 12,465 |
| Released from Isolation: | 9,846 |
| Required Hospitalization: | 890 |
| Deaths: | 150 |
Kauai County
| | |
| --- | --- |
| Total Cases: | 61 |
| Released from Isolation: | 58 |
| Required Hospitalization: | 1 |
| Deaths: | 0 |
Maui County
| | |
| --- | --- |
| Total Cases: | 411 |
| Released from Isolation: | 377 |
| Required Hospitalization: | 57 |
| Deaths: | 18 |
Out of state
| | |
| --- | --- |
| Total Cases: | 42 |
| Released from Isolation: | 0 |
| Required Hospitalization: | 2 |
| Deaths: | 1 |
Pending
| | |
| --- | --- |
| Total Cases: | 0 |
| Released from Isolation: | 0 |
| Required Hospitalization: | 0 |
| Deaths: | 0 |