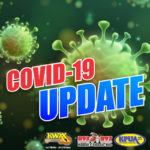 The State has added 118 new COVID-19 cases, according to today's report from the State Department of Health.  The state's total is now 16,205.
O'ahu has the biggest increase, with 86 new cases.  Maui Island has 6 new cases.  Kaua'i has 3 new cases.  One resident out of state has been added.  Moloka'i has zero new cases. Lana'i, after an outbreak that caused 106 cases, seems to have brought the virus under control and has had no new cases for 5 days.
On the Big Island, there are 23 new cases, bringing the island's total to 1,436. Hawaii County Civil Defense has said most of the recent cases have been in Kailua-Kona, which has added 92 cases in the past 14 days.  The island has added 197 total cases in the past 14 days.
There have been 69 residents requiring hospitalization, and 48 people have died from COVID-19. The State is only reporting 31 of those who have passed in its official total of 222.
Hawaii County Civil Defense says there are a total of 12 people hospitalized on the island with COVID-19.
The State Department of Health 3 p.m. report:
Hawaii
| | |
| --- | --- |
| Total Cases: | 1,436 |
| Cases in the Past 14 Days: |   197 |
| Required Hospitalization: |    69 |
| Deaths: |    31 |
Kauai
| | |
| --- | --- |
| Total Cases: | 74 |
| Cases in the Past 14 Days: | 12 |
| Required Hospitalization: |  4 |
| Deaths: |  0 |
Lanai
| | |
| --- | --- |
| Total Cases: | 106 |
| Cases in the Past 14 Days: |   11 |
| Required Hospitalization: |    3 |
| Deaths: |    0 |
Maui
| | |
| --- | --- |
| Total Cases: | 436 |
| Cases in the Past 14 Days: |   32 |
| Required Hospitalization: |   58 |
| Deaths: |   17 |
Molokai
| | |
| --- | --- |
| Total Cases: | 17 |
| Cases in the Past 14 Days: |  0 |
| Required Hospitalization: |  1 |
| Deaths: |  0 |
Oahu
| | |
| --- | --- |
| Total Cases: | 14,008 |
| Cases in the Past 14 Days: |   1,060 |
| Required Hospitalization: |   1,048 |
| Deaths: |        73 |
Out of state
| | |
| --- | --- |
| Total Cases: | 128 |
| Cases in the Past 14 Days: |   64 |
| Required Hospitalization: |     2 |
| Deaths: |     1 |