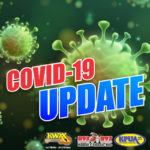 The State has confirmed 110 new cases of COVID-19, bringing the state's total to 16,519.  The state is still reporting 222 deaths, but that does not include all the deaths that the counties are attributing to COVID-19.  The state is no longer reporting enough information to determine the number of active cases of COVID-19.
The new cases include 90 on O'ahu, 3 on Kaua'i, 2 in Hawaii residents out of state, and 1 on Maui Island.  There are no new cases on Lanai or Moloka'i.
Hawaii Island has 12 new cases.  That brings the island's total cases to 1,471.  There have been 196 new cases in the past 14 days.
One way to look at the spread of the virus is calculating what percent of those tested have a positive result.  According to Johns Hopkins University, "one threshold for the percent positive being "too high" is 5%."
The CDC uses a similar guideline.  In some parts of the Big Island, some of the positivity rates exceed the guideline, but may not have many people being tested.  On Hawaii Island, those tested who are residents of several areas are higher than the 5% guideline:  Ocean View (96737) has a 21.6% positivity rate, Pepeekeo (96783) has a 16.7% positivity rate, Paipaikou (96781) has a 16.1% positivity rate, Waikoloa/Puako (96738) has a 7.1% positivity rate, Kailua-Kona (96740) has an 8.9% positivity rate, Captain Cook (96704) has a 5.4% positivity rate.  Just under those areas are Holualoa (96725) and Waimea -Kohala (96743)  with a 4.1% positivity rate.
The State's daily report:
Hawaii
| | |
| --- | --- |
| Total Cases: | 1,471 |
| Cases in the Past 14 Days: |   196 |
| Required Hospitalization: |     71 |
| Deaths: |     31 |
Kauai
| | |
| --- | --- |
| Total Cases: | 80 |
| Cases in the Past 14 Days: | 16 |
| Required Hospitalization: |  5 |
| Deaths: |  0 |
Lanai
| | |
| --- | --- |
| Total Cases: | 106 |
| Cases in the Past 14 Days: |    7 |
| Required Hospitalization: |    5 |
| Deaths: |    0 |
Maui
| | |
| --- | --- |
| Total Cases: | 444 |
| Cases in the Past 14 Days: |   36 |
| Required Hospitalization: |   58 |
| Deaths: |   17 |
Molokai
| | |
| --- | --- |
| Total Cases: | 17 |
| Cases in the Past 14 Days: |  0 |
| Required Hospitalization: |  1 |
| Deaths: |  0 |
Oahu
| | |
| --- | --- |
| Total Cases: | 14,261 |
| Cases in the Past 14 Days: |   1,135 |
| Required Hospitalization: |  1,067 |
| Deaths: |     173 |
Out of state
| | |
| --- | --- |
| Total Cases: | 140 |
| Cases in the Past 14 Days: |  64 |
| Required Hospitalization: |   2 |
| Deaths: |   1 |