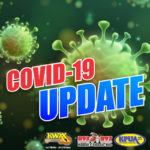 Today, the State Department of Health confirmed 66 new cases of COVID-19 in the state, bringing the total number to  20,417.  These numbers reflect tests reported last Sunday, Dec. 20, and Sundays are typically a lower reporting day.

The Big Island has 6 new cases, bringing the island's total to 1,822. The island has had 50 deaths from COVID-19 out of the state's 282 total deaths attributed to COVID-19.
The State Department of Health reports there has been one recent cluster on the Big Island that was at a restaurant, with 9 total people infected with COVID-19 as a result of the gathering–6 who were at the restaurant, and 3 associated people.   For the complete "Cluster Report," click here.
State DOH continues to remind people to wear masks, stay home if you are sick or have symptoms, avoid gatherings, and distance.  Although most people with COVID-19 do not get very ill, some do–and some can die, as evidence by the island's 50 deaths and the more than 322,000 people in the country who have passed away from COVID-19.  Many of those were older, or had other health conditions that made it hard for their bodies to effectively fight the virus.  But even on this island, there have been people who have died who were not old, and not previously ill.
Vaccines are being given now nationwide, including in the state.  On this island, this week vaccinations have started for front line health care workers who wish to be vaccinated at Kona Community Hospital, Hilo Medical Center, and Queen's North Hawaii Community Hospital.
After front line health care workers, people in congregate living facilities are the next priority to get vaccinated, then first responders and essential workers such as those who work in grocery stores and teachers, and those 75 and older.  The next priority recommended by the CDC is those 65 through 74, and people 16 and older with high risk medical conditions.  Getting vaccinated for now will be voluntary, but the demand is so high it will take into next summer to get everybody vaccinated who wants.
The State DOH report, which reflects numbers as of testing on Sunday, Dec. 20, 2020:
| | | |
| --- | --- | --- |
| Where | Total | New  |
| State | 20,417 | 66 |
| Hawaii County |   1,822 |   6 |
| Oahu | 17,209 | 51 |
| Maui |     792 |   7 |
| Kaua'i |     138 |   0 |
| Out of state |     328 |   2 |
| Lanai |     106 |   0 |
| b |       22 |   0 |