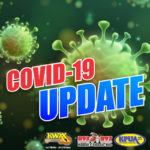 The State Department of Health has confirmed 120 new cases of COVID-19 the same number as Friday,  bringing the state's total to 20,888. These numbers reflect tests as of last Thursday.  State DOH now reports all numbers two days late.
The Big Island count increased by 4. The island has had 1,859 total cases of COVID-19, and 50 people are known to have died from the virus. Statewide, the DOH is confirming 285 deaths from COVID.
Hawaii County Civil Defense said as of now, there are 5 patients with severe COVID-19 cases in Big Island hospitals.
Despite the positive news about vaccines, which are currently being given to health providers and first responders and those in congregate senior living facilities around the state, mask wearing and distancing are still important. Health officials urge everybody to remember that over the next week of holidays.
The State Department of Health report for noon Sat., Dec. 26, with numbers reflecting tests as of Thursday, Dec. 24:
| | | |
| --- | --- | --- |
| Where | Total | New  |
| State | 20,888 | 120 |
| Hawaii County |   1,859 |    4 |
| Oahu | 17,533 |  83 |
| Maui |      875 |  20 |
| Kaua'i |      142 |    3 |
| Out of state |      351 |  10 |
| Lanai |      106 |    0 |
| Molokai |       22 |    0 |