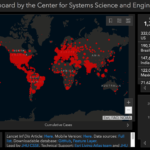 The Johns Hopkins COVID Dashboard  for Sunday, Dec. 27, 2020, at 5:23 a.m.:
Worldwide cases:   80,459,047     Worldwide deaths:   1,759,907
U.S. cases: 18,990,107     U.S. deaths: 332,013
According to the Dashboard, the reported worldwide case report increased by 492,899 in the last 24 hours.  Deaths worldwide increased by 7,233.
According to the Johns Hopkins Dashboard, the United States has added 218,222 cases in the last 24 hours.
In the last day, the number of people who have died in the U.S. from  COVID-19 increased by 1,668.
In Hawaii, the total number of people in the state who had contracted COVID-19 as of Thursday's numbers, reported by the State Department of Health on Saturday, was 20,888, with 1,688 new cases in the past 14 days.  The Big Island has had 1,859 cases in total.  State Department of Health says most of the Big Island cases are community spread, although there are some travel-related cases.
The COVID Tracking Project reports that 117,344 people spent Christmas Day in the hospital, suffering from severe cases of COVID-19.  That number is slightly lower than the day before.  On the Big Island in Hawaii, 5 people are currently hospitalized with COVID-19, according to Hawaii County Civil Defense.  Statewide, 71 people are hospitalized with the virus.
In good news, more than 1 million Americans have received the first dose of either the Pfizer/BioNTech or the Moderna vaccines.  In Hawaii County, health care workers and first responders (police, fire) have been getting vaccinated over the last several days.  Both Hilo Medical Center and Kona Community Hospital are also offering vaccines to front line health care workers who are not on the hospital staff.
President Donald Trump has not yet signed the bill negotiated by his Treasury Secretary Steve Mnuchin with both Democrat and Republican legislators, that would extend unemployment benefits past today and provide a large package of COVID-19 relief.   The bill is at Mar-a-Lago in case the President decides to sign it.  If he does not sign it by Monday, the government will shut down Monday night at midnight unless Congress can pass a separate interim spending bill to keep it open.