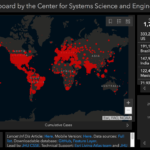 The Johns Hopkins COVID Dashboard  for Monday, Dec. 28, 2020, at 5:23 a.m.:
Worldwide cases:   80,908,162     Worldwide number of people dead from COVID-19:   1,767,187
U.S. cases: 19,145,982     U.S. number of people dead from COVID-19: 333,239
According to the Dashboard, the reported worldwide case report increased by 449,115 in the last 24 hours.  Deaths worldwide increased by 7,280.
According to the Johns Hopkins Dashboard, the United States has added 155,875 cases in the last 24 hours.
In the last day, the number of people who have died in the U.S. from  COVID-19 increased by 1,226.
The U.S. continues to far exceed cases and deaths of any country, having nearly twice as many cases and 11 times the deaths of India, which the Johns Hopkins Dashboard says has just over 10.2 million cases and just under 148,000 deaths.   Brazil, listed third, has just under 7.5 million cases and has lost 191,139 people to COVID-19.  Click on the attached map to see the detail of the top 5 countries.  Or click here for the source map.
In Hawaii, the total number of people in the state who had contracted COVID-19 as of Friday's numbers, reported by the State Department of Health on Sunday, was 20,983,.  The Big Island has had 1,862 cases in total.
The COVID Tracking Project reports that 118,720 were hospitalized as of Dec. 27.  On the Big Island in Hawaii, as of Sunday, 5 people were hospitalized with COVID-19, according to Hawaii County Civil Defense.  Statewide, 71 people were hospitalized with the virus on Sunday.
In good news, late Sunday, President Donald Trump signed the bill that will provide government funding, avoid a Monday night government shutdown, and provide at least $1.7 billion in COVID-19 relief to Hawaii.