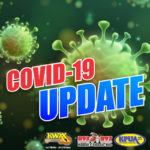 The State Department of Health has confirmed 108 new cases of COVID-19, bringing the state's total to 21,209 . In the past 14 days, the number of new cases has been 1,578.  These numbers reflect tests as of two days ago, Monday, Dec. 28.
The Big Island count increased by 2, according to the State Department of Health numbers released at noon. The island has had 1,873 total cases of COVID-19, according to State Department of Health.
On the island, 51 people are known to have died from the virus.  Statewide, the DOH is confirming 285 deaths from COVID. Hawaii County Civil Defense says 3 people on the island are in the hospital with severe cases of COVID-19.
The State Department of Health report for noon Wed., Dec. 30, with numbers reflecting tests as Mon., Dec. 28:
| | | |
| --- | --- | --- |
| Where | Total | New |
| State | 21,209 | 108 |
| Hawaii County |   1,873 |     2 |
| Oahu | 17,773 |   86 |
| Maui |      932 |   17 |
| Kaua'i |      145 |     1 |
| Out of state |      358 |     2 |
| Lanai |      106 |     0 |
| Molokai |       22 |     0 |