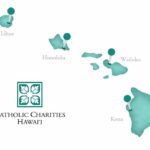 Catholic Charities Hawaiʻi has announced a pandemic rent relief program to qualified Hawaiʻi residents.
The Rent Assistance and Mediation Program (RAMP) is a $6 million assistance program Catholic Charities Hawaiʻi, with State assistance, is providing to  renters who are at risk of eviction because of job loss and reduced income due to the COVID-19 pandemic. Payments will have a monthly cap of $1,500 per household.
Eligible participants must be full-time Hawai'i residents with a valid and current rental lease of 6 months or longer. They must also demonstrate a loss of income due to the COVID-19 pandemic and have a gross household income that does not exceed 100% of the HUD Area Median Income for 2020.
Online Applications will be open from January 11 to January 13, 2021 between the hours of 8:00am to 5:00pm.
For more information on RAMP and to apply click here.