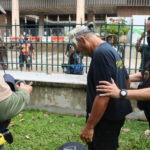 Gene Tamashiro, the Hilo man behind the illegal "kanaka" garden at Wailoa River State Park in Hilo, was arrested at Iolani Palace in Honolulu Sunday morning.  According to a press release from The Department of Land and Natural Resources, Tamashiro was charged with entering a closed State Park in addition to violating the Stateʻs COVID-19 rules.
Tamashiro was part of a group of supporters gathered to mark the anniversary of the overthrow of the Hawaiian Kingdom.  Earlier he informed the DLNR Division of Conservation and Resources Enforcement (DOCARE) that he intended to enter the palace grounds if he was not given permission.
DOCARE Chief Jason Redulla spoke to Tamashiro and explained that without a permit from the DLNR Division of State Parks he would not be allowed to enter the grounds.  He then produced a long scroll of documents which he claims show the illegal overthrow of the kingdom and questions the legality of ownership of the palace by the State of Hawai'i.  Tamahsiro proceeded to jump the palace fence and was immediately handcuffed and led away by deputy sheriffs from the Dept. of Public Safety for booking. At this time, he's being held on $2,500 bond.
Photo of Gene Tamashiro courtesy of DNLR