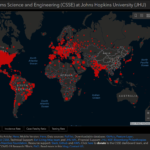 As of 5:00 am on Wednesday, January 20, 2021, The Johns Hopkins COVID-19 dashboard reports the following information. 
 Global Cases – 96,311,790      Global Deaths – 2,060,731
U.S. Cases – 24,256,319       U.S. Deaths – 401,820
Nearly one year ago today, the U.S. saw itʻs first confirmed case of Coronavirus in a 30 year old Washington State man who had tested positive after returning home from Wuhan, China.