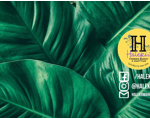 Starting Saturday, February 20, 2021 the Haleki'i Farmers Market and Craft Fair will launch its Keiki Entrepreneurs Program, which gives local children the opportunity to showcase their diverse artistic talents.
A release from the Haleki'i Farmers Market outlines their family centered, outreach and sustainability programs which include:
HK Keiki Entrepreneur Program
Students will receive mentorship and guidance to learn all elements of entrepreneurship such as branding, marketing, and presentation.
HK Ma ka hana ka ʻike Series –
Each Saturday in February, a special guest artist will share their craft and knowledge with Haleki'i Farmers Market and Craft Fair goers. Masters include:
Chucky Leslie – Net Making
George Place – Bamboo Stamp printing
Bucky Leslie – Tropical lei-making
HK Community Outreach
In an effort to uplift the community, HK community outreach encourages groups and non-profits to come and share their missions.
The Haleki'i Farmers Market is located on 81-952 Haleki'i St. in Kealakekua. Hours of operation are from  11:00am to 4:00 pm.
For more information visit @halekii on Facebook and Instagram.