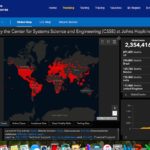 As of 7:30 am on Monday, February 22, 2021, The Johns Hopkins COVID-19 dashboard reports the following information. 
 Global Cases -111,555,751    Global Deaths – 2,469,417
U.S. Cases – 28,139,690     U.S. Deaths – 499,128
Yahoo news reports President Joe Biden is expected to honor U.S. citizens who died from Coronavirus with a moment of silence and candle lighting ceremony at the White House today.