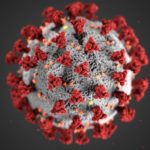 The Department of Health's State Laboratories Division confirms the presence of a new COVID variant in Hawai'i. The P.2 variant, which contains the E484K mutation, was identified through surveillance testing conducted on O'ahu.
The P.2 variant has been detected in one Oʻahu resident.  In a statement from the Department of Health, Acting State Epidemiologist Dr. Sarah Kemble said, "that individual recently traveled to the U.S. mainland and is in isolation and known close contacts are in quarantine."
It is unclear whether this variant is more resistant to vaccines and antibodies gained through previous COVID infection.
While the P.2 variant is still being studied, people previously vaccinated or previously infected are not expected to become seriously ill if infected with the P.2 variant. This variant is thought to have originated in Brazil and has been found in several mainland states and Europe.