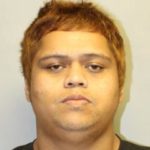 Hawai'i Island police have charged 28-year-old Bryan Kaipo Piilani, of Hilo, with theft.
On February 27, 2021, Piilani was located at a residence in Hilo, where he was arrested by police detectives.
A statement from the Hawaiʻi County Police Department says Piilani was charged with two counts of first-degree theft during an emergency period, and fourth-degree theft.  His bail was set at $51,000.
The charges stem from three separate shoplifting incidents that  occurred in Hilo throughout February 2021.
Photo Courtesy of Hawaiʻi Island Police Department