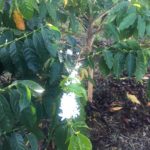 As visitors leave snowy climates in search of Hawaiʻi's hot sun they may be surprised to encounter Kona Snow.
Right now, the approximately 30 mile long area known as the Kona Coffee Belt is covered with acres of coffee cherry flower also known as "Kona snow."
The flower represents the beginning of coffee season, a time when farmers finish processing last year's crops, start pruning and begin preparing for the new harvest.
By fall all of these flowers will transform into red coffee cherry ready for picking.