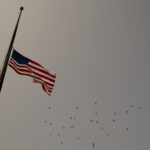 On Tuesday, March 16, 2021 all State of Hawaiʻi flags will be flown at half-staff  to honor the late William Bains-Jordan, the first state representative of ʻAiea.
Bains-Jones died at the age of 104 at his home in Madison, Alabama. He is survived by his wife, three children, five grandchildren, and eight great-grandchildren.
He served as chairman of the 49th State Fair and then served as a Republican in the House from 1959 to 1962. During his time at the Legislature, Bains-Jordan also chaired a committee to design the Hawai'i State Capitol.