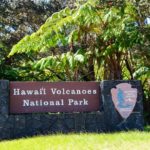 Hawai'i Volcanoes National Park has announced its April 2021 flight operations schedule.  Management of the park requires the use of aircraft to monitor and research volcanic activity, conduct search-and-rescue missions and law enforcement operations, support management of natural and cultural resources, and to maintain backcountry facilities.
Dates and locations are listed below:
April 15 – between 6:30 a.m. and 8 a.m., for ungulate surveys and control work at Kahuku between 4,000- and 6,000-ft. elevation.
April 15 – between 7 a.m. and 11 a.m., for fountain grass control and mapping from the western boundary to Keauhou Trail from sea level to around 3,500-ft. elevation.
April 22 – from 8 a.m. to 11 a.m., for guinea grass control and mapping, from Keauhou Trail at Hilina Pali to sea level.
April 30 – times TBD, to retrieve lua restoration equipment from coastal camping areas.
In addition, the USGS Hawaiian Volcano Observatory may conduct flight operations over Kīlauea and Mauna Loa to assess volcanic activity and maintain instrumentation.