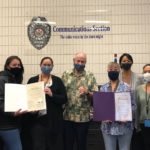 On Monday, April 12, 2021, Hawai'i County dispatchers were honored at a ceremony as part of National Public Safety Telecommunications Week, also known as "Dispatch Week", which runs from April 11-17, 2021.  During the ceremony, which took place at the Hilo Police Station, Hawai'i County Mayor Mitch Roth presented a proclamation from the Office of the Mayor to the department recognizing dispatchers for their hard work.
The police department has a total of 30 dispatch staff, 25 police radio dispatchers and five supervising police radio dispatchers, with about six to seven police dispatchers working per shift for a total of 20 dispatchers on duty during a 24-hour period. On any given day, dispatchers receive an average of 515 calls to 911, averaging 15,694 calls a month to 911 last year. In 2020, Hawai'i Police Department dispatchers handled 188,329 calls to 911.
Dispatchers are the first and most critical contact island residents and visitors often have with emergency services. All 911 calls go directly to police dispatch where callers are asked if they need police, fire, or medical services. Fire and medical services calls are routed to the fire department.
In a press release Hawaiʻi County Police Chief Paul K. Ferreira said, "it's not an easy job. Our dispatchers are very committed to public safety and are able to calmly work in a fast-paced high-stress environment, providing emergency response to our residents while dispatching first responders to provide assistance."
Photo Courtesy of Hawai'i County Police Department