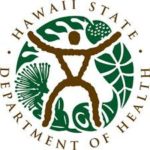 The State Department of Health reports 33 new cases of coronavirus.  The following data includes confirmed and probable cases up until Sunday, June 27, 2021.  Full data is posted on the State COVID-19 dashboard and on the DOH Disease Outbreak & Control Division website: hawaiicovid19.com/dashboard.
STATEWIDE COVID-19 COUNTS:
Total Cases  37,702
New Cases: 33
Deaths: 516
Current Hospitalizations: 36
Average Daily Cases: 41
Positivity Rate: 1.4%
Fatality Rate: 1.4%
Cases Reported in the Last Two Weeks: 551
The DOH reports 3 new cases of Coronavirus with no new COVID-19 related death on Hawaiʻi Island.
HAWAIʻI ISLAND COVID-19 COUNTS:
Total Cases: 3,256
New Cases: 3
Deaths: 55
Current Hospitalizations: 6
Average Daily Cases: 6
Positivity Rate: 1.8%
Fatality Rate: 1.7%
Cases Reported in the Last Two Weeks: 108