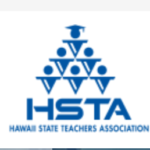 On Tuesday, September 14 2021, Hawai"i State Teachers Association members who work along the Leeward Coast of Oʻahu will be joined by parents and community members for informational picketing in an effort to spread awareness about student safety.  They will also be addressing the need for the safe working conditions at their schools in addition to intense demands and stresses on teachers, and more.
The event will take place  from 3:30pm to 5:15pm on the public sidewalks fronting the Kapolei State Office Building on 601 Kamokila Blvd in Honolulu.
This event will be socially distanced and follow all health and safety protocols.