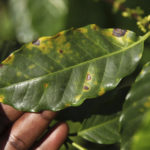 Senators Mazie K. Hirono and Brian Schatz and Representatives Ed Case and Kai Kahele announced $6,007,090 in funding from the U.S. Department of Agriculture (USDA) National Institute of Food and Agriculture (NIFA) Specialty Crop Research Initiative (SCRI) grants program to the Synergistic Hawaiʻi Agriculture Council (SHAC) to address Coffee Leaf Rust (CLR).
The four-year grant will support a coordinated approach to addressing CLR across various entities, including the USDA Agricultural Research Service (ARS) Daniel K. Inouye U.S. Pacific Basin Agricultural Research Center (DKI-US-PBARC), the ARS Tropical Agriculture Research Station (TARS) in Puerto Rico, University of Hawaiʻi, University of Puerto Rico, as well as Purdue University and Michigan State University. The five main objectives of this grant include breeding rust-resistant varieties of coffee, surveying spread and identifying field management options for farmers to use to protect existing coffee trees, identifying fungicides or biological control methods to combat CLR, genomic work on CLR, and economic analyses of domestically grown coffee.
CLR is a fungus that up until last year was present in every coffee growing region of the world except Hawaiʻi. It was first detected in Hawaiʻi in October 2020 and its presence has since been confirmed on all main Hawaiian Islands. Spread of the fungus is difficult to control and if left untreated can result in more than 70 percent yield loss.
Upon learning of detection of CLR in Hawaiʻi last year, Senator Hirono, Senator Schatz, and Rep. Case sent a letter to then-USDA Secretary Perdue alerting him to the situation and requesting swift federal assistance with early detection and rapid response. In addition, the Hawaiʻi delegation introduced the Coffee Plant Health Initiative Amendments Act earlier this year that would expand research funding to address all current and emerging threats to coffee plant health, including CLR.
AP Photo