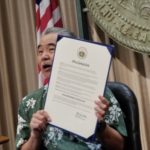 Governor David Ige is leading a group of state and county leaders to Glasgow, Scotland for COP26 (Conference of the Parties to the UN Framework Convention on Climate Change) currently underway and continuing through November 12. 
COP26 is being heralded as the most consequential meeting of world leaders to discuss climate change since the UN Climate Change Conference in Paris in 2015. Hawai'i was the first state to show its commitment to climate action by embracing the Paris Agreement in law and creating the state's Climate Change Mitigation and Adaptation Commission. The state is also the first in the world to commit to a 100% clean energy goal.
During the regular meeting of the Commission on Monday, November 1, Governor Ige outlined the importance of climate change considerations for Hawai'i and its Pacific neighbors.  He went on to detail the next generation of priority policies and high-impact actions the U.S. Climate Alliance is bringing forward at COP26. According to the Climate Alliance, this is to lead the world in the development of new, innovative, and effective climate policies and actions. 

Hawai'i is one of the original members of the Alliance, which now includes 25 governors who have committed to reducing greenhouse gas emissions, leading collectively and steadily to net-zero emissions (in the case of Hawaiʻi, below zero) as soon as practicable and no later than 2050. 
The U.S. Climate Alliance formed in response to the U.S. withdrawal from the Paris Agreement in 2017. It has since rejoined global forces focusing on climate change. Earlier this year, the leadership of climate action in Hawai'i was reflected in the significant role given to the Hawai'i delegation to the IUCN World Conservation Congress in establishing the Climate Change Commission. Also, this year, a Hawai'i Senate Concurrent Resolution declared a climate emergency. 
Governor Ige says the COVID-19 pandemic highlighted the importance of our connections with each other and the natural world, and how interconnected societies can work together to manage huge global threats, such as climate change.
The Commission is the highest advisory policy-making body in the state for climate change and comprises members from 20 different state and county departments, and legislators. It emphasizes nature-based solutions, green infrastructure, and carbon-smart practices to deal with climate change impacts. Its mission is to promote ambitious, climate-neutral, culturally responsive strategies for climate change adaptation and mitigation in a manner that is clean, equitable and resilient.