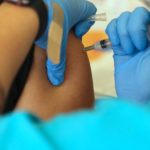 Hawaiʻi County is praising the community for the recent increase in testing and vaccinations as part of a community-driven response to the statewide COVID-19 surge. Since December 1, 2021, 3,890 vaccinations were administered at County-supported events totaling 4.09% of the total 95,109 vaccines administered since December 23, 2020. In addition, 2,666 PCR tests have been issued at County-supported events since December 1, totaling 3.59% of the total 74,253 PCR tests administered since March 23, 2020.
In a press release Hawaiʻi County Mayor Mitch Roth said, "We would like to thank the community for stepping up and taking the initiative to get vaccinated and tested this holiday season as we all continue to work together to keep each other safe and healthy.  We would also like to thank all of our partners who have worked tirelessly, around the clock, to make sure that testing and vaccination sites remain available for everyone on our island. Combating this virus has taken a toll on all of us, and we want each of you to know that you are valued, seen, and appreciated for your efforts. This is truly a community effort, and we are proud to be a part of such an amazing community that lives with aloha, honor, and respect for each other."
Hawaiʻi County has partnered with nine providers: KTA, West Hawaiʻi Community Health Center, Kona Community Hospital, Hilo Medical Center, Kaʻū Rural Health Community Association, Bay Clinic, Department of Health, Premier Medical Group, Queens North Hawaiʻi Community Hospital, and Hamakua-Kohala Health to offer testing and vaccination services islandwide. Currently, the County provides, in partnership, testing clinics in Kapaʻau, Waimea, Hilo, Kailua-Kona, Captain Cook, Naʻālehu, Pāhala, and Pāhoa, with 15 events scheduled each week.
Testing and vaccination sites and information can be found at hawaiicounty.gov/coronavirus.
AP Photo