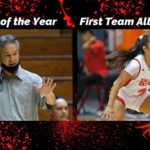 The UH Hilo women's basketball team received conference recognition as head coach David Kaneshiro was named PacWest Coach of the Year by his peers and junior Mandi Kawaha received First Team All-PacWest honors for her outstanding play throughout the 2021-22 season.
Kaneshiro, in his 12th season, brought the team to the PacWest Conference Championships for the first time since 2014, with a conference record of 11-8 (their best finish since the 2011-12 season).
Kawaha, First Team All-PacWest, led her team in points (366), steals (32), free throw percentage (.838), assists (93) and even blocked shots (7). The 5-2 junior guard from Hilo High School is also a PacWest statistics leader in three categories.  She is the seventh-highest scorer in the conference (averaging 15.6 a game), has the second-highest free throw percentage (.838), and the third-most assists (averaging four a game). She surpassed the 1,000 point barrier in the last regular season of the game of the season and now has 1,002.  Kawaha is the fourth player in UH Hilo women's basketball history to be named to the All-PacWest First Team.
The Vulcans open PacWest Tournament play on Thursday, March 4 with a quarterfinal match-up against Academy of Art.
Photo credit: UH Hilo