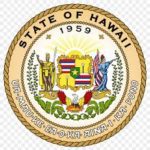 Due to low new COVID-19 case counts and hospitalizations across the state, the Department of Accounting and General Services (DAGS) will open all state facilities managed by DAGS  effective Mar. 7, 2022.
At that time, visitors to the Hawaiʻi State Capitol will be able to enter from one of two entry points — the basement rotunda entrance and the first-floor rotunda, street level. Security guards will operate a new screening process at each entry point, where visitors will be asked for their photo ID cards and proof of vaccination or documentation of a negative COVID-19 test result received within 72 hours of entering the Capitol. Visitors who meet the requirements will receive a daily sticker that must be worn at all times while at the State Capitol. Face masks are also required at this time.
Entry procedures will remain in place through at least Mar. 25 and will vary by department.