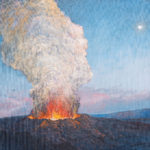 EHCC's latest exhibition, Terra Forme, which opens this weekend, imagines earth as a vast, diverse, and dynamic living entity. Adapted from the science fiction term terraforming, the exhibition title describes the long-term transformation of an alien environment to one that can support human life.
The exhibition showcases the work of eight artists who originate from far-flung locations: Icelandic artists Halldór Ásgeirsson, Heimir Björgúlfsson and Arngunnur Ýr; Solomon Enos, Leslie Gleim, Hamilton Kobayashi and Michelle Schwengel-Regala from Hawai'I; and Mucyo from Rwanda.
Terra Forme is guest curated by Koan Jeff Baysa who was inspired by his 2019 travels to witness two dramatic eruptions: Kilauea in Hawai'i and Fagradalsfjall in Iceland, where magma, originating in the earth's mantle, spectacularly emerges as lava through volcanoes and seamounts, creating new land. The oldest lava flows on earth are about 4 billion years old. By comparison, ancestors of modern day humans appeared around 5-7 million years ago. Some lava fields can turn to soil supporting plant life in roughly four years, but it can take 25,000 years for a lava flow area to develop into a viable ecosystem.
The featured artists view these phenomena through the lenses of geomorphology and indigenous interpretations of natural phenomena. In addition to oral histories by elders and stories of volcano deities, the exhibition's references include Hawaiʻi's emerging seamount Kamaʻehuakanaloa located off Hawai'i Island and the subglacial volcano Fagradalsfjall on Iceland's Reykjanes Peninsula. Further, there are representations of Kilauea's lava lake and the lava lake of Mount Nyiragongo in the Democratic Republic of the Congo near the border with Rwanda.
Terra Forme is on view from August 6 to September 30, with a 6pm opening on Friday August 5.
For more information, visit ehcc.org, call 961-5711, or visit EHCC at 141 Kalakaua Street. Gallery hours are from 10 to 4 Tuesday through Friday and 10 -2 on Saturday.
(Photo credit: East Hawaiʻi Cultural Center)