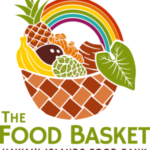 Due to continued cancellations and delayed shipments of federal food products, as well as wholesale food purchases, the Food Basket is currently struggling to stay stocked and in need of donations.
With pandemic recovery efforts and supply chain issues, not only has private industry been hurting, but the usual Federal Emergency Food program, TEFAP, that supplies procured food to communities around Hawaiʻi island through The Food Basket's distribution avenues, is also experiencing challenges.
In a press release Executive Director, Kristin Frost Albrecht said, "The Food Basket, Hawai`i Island's Food Bank, is the sole food bank for the island.  Historically, we have relied on the TEFAP program and charitable donations for our emergency food supplies. Now, we are experiencing a 'perfect storm' as we are purchasing most of our food and, at the same time, seeing a record number of our island neighbors in need due to the escalating costs of daily expenses."
The Food Basket also has a plan for a sustainable food system campus in Hilo that includes agroforestry crop production, aquaponics, commercial kitchens, state-of-the-art processing facilities, technical assistance programs, streamlined food distribution, consolidated food storage for dry, refrigerated, and frozen items, educational programs, retail, and more. The need for monetary donations is essential so the Food Basket can continue to be replenished and funds allocated to the Agricultural Innovation Campus project.
For more information visit www.hawaiifoodbasket.org.