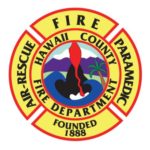 Yesterday morning, the Hawaiʻi County Fire Department responded to a call at Chiefess Kapiolani Elementary School in Hilo for a HAZMAT incident.
Members of Company 1, HAZMAT Company 4 as well as the Battallion Chief arrived at the school after receiving a report of s strong chemical smell coming from the library's storage room.   The chemical was identified as an acid based sanitizer/disinfectant. Hazardous material specialists were able to remove the chemical and clean and ventilate the area.
The cause of the incident was a damaged chemical container.  No injuries were reported.