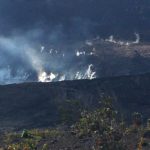 Increased seismicity, ground deformation, and surface lava flows at Kīlauea's summit within Hawaiʻi Volcanoes National Park occurred yesterday afternoon.  All activity was restricted to the summit region and there is no indication of activity migrating into either rift zone.
Beginning at 3 pm, earthquake activity beneath Kīlauea Volcano's summit began to increase, followed by summit inflation beginning around 4:20 p.m. and new breakouts of lava which began occurring on Halema'uma'u crater floor at 4:30 p.m.
The activity likely represented a temporary blockage in the eruption of lava at Halemaʻumaʻu, causing pressurization below the surface. This resulted in the earthquakes and ground inflation. Once the blockage was cleared, eruption of lava resumed with new breakouts occurring on the Halemaʻumaʻu crater floor.
Approximately 50 earthquakes were detected beneath Kīlauea summit between 3 pm and 6 pm yesterday.  Most earthquakes in this swarm occurred approximately 1 mile beneath Halemaʻumaʻu. The largest recorded earthquake was a magnitude 2.9, with the majority of the earthquakes being less than magnitude 2.
A rapid inflation of Kīlauea summit began around 4:20 pm coincident with a drop of 23-feet in the lava lake level. The crater floor surrounding the lava lake also subsided by several yards.  New surface breakouts of lava occurred on the west and north margins of the crater floor. Approximately 12 microradians of inflationary ground tilt was measured at the UWE instrument.