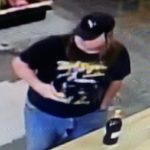 Hawai'i Island police are asking the public to help them identify an individual involved in a theft that took place in lower Puna on Thursday, September 6.  The suspect was observed on video surveillance using a stolen credit card at Keaʻau a business.
The suspect is described as possibly being in his 30's to 40's with a fair complexion and large build. He arrived in a light blue, Chevrolet Uplander passenger van with unknown license plates.
Police ask anyone who has information on this individual to call the police department's non-emergency line at (808) 935-3311, or Officer Keaolapule Fessenden-Grace at (808) 965-2716, or via email him at Keaolapule.Fessenden@hawaiicounty.gov.
HPD Photo