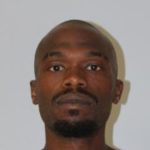 39 year-old David Lester Bars of Puna was charged with burglary and theft in relation to an incident at a Hawaiian Acres subdivision residence on September 19.
As the Complaint alleges, Bars was charged with Burglary in the First Degree (intentionally enter or remain unlawfully in a building, with intent to commit theft, and recklessly disregard the risk that the building was another person's dwelling) and Theft in the Fourth Degree. Burglary in the First Degree is a class B felony offense which carries a penalty of 10 years in prison or 4 years probation and up to 18 months in jail.
On Tuesday, Bars made his initial appearance in Hilo District Court where his bail was maintained at $26,000.  He was ordered to appear for a preliminary hearing in Hilo District Court today.
The investigation was handled by Officer Kyle Murray, Puna Patrol, Hawai'i Police Department. The case is being prosecuted by Deputy Prosecuting Attorney Jeff Malate.
The charges are merely allegations, and the Defendant is presumed innocent unless and until proven guilty.
Photo credit: Hawaiʻi County Prosecuting Attorney