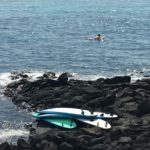 In an effort to better manage large crowds of surfers and commercial instructors in Kahulu'u Bay, four surf instruction companies were awarded permits by the DLNR Division of Boating and Ocean Recreation (DOBOR during a bingo-style lottery at the Old Kona Airport Pavilion.
Commercial surf instruction at the bay has been contentious for years because of un-permitted companies 
Four companies were selected from a total of 17 entries. Those that did not get a permit were put on a wait list in the event one of the winners relinquishes their permit or fails to file additional permit paperwork within the next ten business days. The permits become effective on Dec. 4. 
 The four lottery winners in order of selection were: 
Kauakea LLC 

Hinaea Iliahi LLC 

Kahulu'u Bay Surf & Sea Inc.

Kona Town Adventures LLC
Each company will have additional rules and regulations outlined in their permits. 
DLNR Photo