So Juicy HILO Cafe + Culture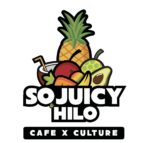 Business Name:
So Juicy HILO Cafe + Culture
Business Description & Hours:
So Juicy HILO is located right on Kamehameha Ave. next to well renowned Aloha Shirt Maker, Sig Zane Designs. Our mission is to provide healthier food and drink options that are convenient, affordable and ʻono; from a Hawaiian perspective. Last November at Goodnatureʻs Juicecon 2019, we competed in the very first and only World Juicing Championship where we brought back to Hilo the overall title and confirmation on something we have known for awhile … that we have a phenomenal product. Weʻd love to have all of you come and try it for yourself. Boost your immune system, support local and JUICE YOUR ROOTS =)
Hours: 10am-3pm
Call 808-464-4804 for delivery and curbside options.
Send Message to listing owner