medical dispensary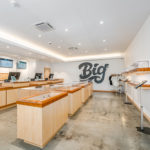 Address:
Hilo: 750 Kanoelehua Ave. Suite 104, Hilo, HI, 96720
Kona: 74-5617 Pawai Pl, Kailua-Kona, HI 96740
Waimea: 64-1040 Mamalahoa Hwy, Waimea, HI 96743
96720
Business Description & Hours:
All Locations – Hilo, Kona, & Waimea
Monday-Saturday: 9:00am-7:00pm
Sunday: 9:00am-2:00pm
EVERYDAY "Kupuna Hour": 9:00am-10:00am
Big Island Grown (B.I.G.) wishes for all 329 patients and the public to know that our primary concern during this time is the health and safety of our patients, employees and the communities we serve. We are continuing to closely monitor the COVID-19 situation and adjusting our practices as needed. We have taken many steps including enhanced sanitation protocols, required PPE for all staff, and the additon of our "Kupuna Hour". You can see all External Announcements concerning COVID-19 at: bigislandgrown.co/covid-19
Big Island Grown's fully automated cultivation facility incorporates cleanroom technology to ensure a pathogen-free environment. With 3 retail locations island wide, we are here to provide a Farm to Patient™ experience for every patient that comes through our doors.