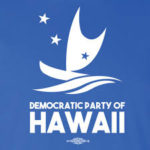 The County and State elections, now all-mail, are slated for the Primary, Saturday August 8, and the General Election, Tuesday November  3.  But the Democratic Party is holding an election in advance of that to vote for the Presidential candidate from the Hawaii Democratic Party.   Initially those elections were to be via mail or walk in voting on Saturday, April 4.    These elections are for current members of the Democratic Party or for those who wish to register.
Because of the coronavirus pandemic, the Democratic Party of Hawaii is switching to all mail voting.  Two rounds of ballots have already been mailed.   Everyone who has already received a ballot in the first or second mailing is urged to cast their vote and mail the ballot back soonest.  Those who have not yet enrolled in the Party can do so at www.hawaii democtrats.org on or before April 4 to be included in the third mailing.
In addition to canceling walk-in voting for the Presidential Primary, the Party has also postponed its State Convention from May 23-24, 2020, to the weekend of September 5-6, 2020 in Honolulu. Also, the Hawai'i County Committee (HCC) has postponed the Hawai'i County pre-convention and Convention, which were to be held April 11 and May 2, 2020. New dates have yet to be determined.
For more information, go to https://www.hawaiicountydemocrats.org/coming-events.