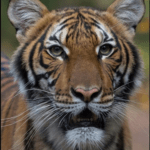 The Wildlife Conservation Society's Bronx Zoo has a tiger which has tested positive for COVID-19.   The Bronx Zoo, one of the country's oldest, founded in 1899, released the news on Sunday, April 5.
The four year old female Malayan tiger, Nadia, and her sister Azul, plus two Amur tigers, and three African lions have all developed a dry cough.   Nadia's test was performed at the University of Illinois College of Veterinary Medicine Veterinary Diagnostic Laboratory.   The positive COVID-19 test for the tiger was confirmed by USDA's National Veterinary Services Laboratory, based in Ames, Iowa.
Though they have experienced some decrease in appetite, the Bronx Zoo says the big cats are otherwise doing well under veterinary care and are bright, alert, and interactive with their keepers. It is not known how this disease will develop in big cats since different species can react differently to novel infections.
No other animals at the Bronx Zoo are infected at this time. Nadia and the other cats were infected by a caretaker who has COVID-19 but had no symptoms at the time.
There is no evidence that animals play a role in the transmission of COVID-19 to people other than the initial event in the Wuhan,  China market, where it  appears a bat transmitted the virus to another animal—possibly a  pangolin—which then transferred it to humans.  The Bronx Zoo release says there is no evidence that any person in the United States has been infected with COVID-19  by animals, including by pet dogs or cats.