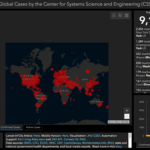 As the relentless spread of COVID-19 continues, the United States has now hit around 321,762 confirmed cases, according to the Johns Hopkins COVID-19 Dashboard on Sunday morning, April 5, at 6 a.m. HST.   The virus is now in 183 countries and regions of the world, with at least 1,237,420 cases.
In the United States, the hardest hit right now is New York State. According to the New York State Department of Health, as of Saturday at 5 p.m.,  the state had 60,850 cases, with 2,254 deaths.  Nearly 13,000 people have needed hospitalization.
Nationwide, 9,132 deaths are now attributed to COVID-19.  Most experts say the number of cases in the U.S. is likely higher, people who have not been tested, and the death toll could also be higher.
The University of Chicago has also been data-mapping hot spots for COVID-19, using county-level as  well as state-level data.    Other hot spots include Louisiana; the Seattle area; the San Francisco Bay Area;  Southern California; Albany and Atlanta, Georgia; Chicago.
Several municipalities have created very specific COVID-19 maps, including Los Angeles County, which breaks down confirmed cases by city and area.
In Hawaii, which as of Saturday, April 4 had 351 confirmed cases and 4 deaths, State Health Director Bruce Anderson says it is critical to maintain isolation and social distancing when in public.  In an interview on April 2, Dr. Nathan Tomita of Ali'i Health Center at Keauhou Shopping Center  also advised that people not touch their face, as the virus can enter the body through eyes, nose, or mouth. The CDC is recommending that people wear a face covering, a cloth mask (N95 nor surgical masks not needed) while out in public, and Hawaii County Mayor Harry Kim is now echoing that recommendation.
In the Saturday White House briefing for COVID-19, Dr. Anthony Fauci and President Donald Trump said the situation will continue to get worse.