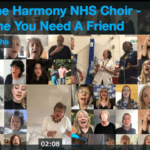 In another example of how being apart can still bring togetherness, more than 100 people came together, remotely, to pay tribute to the world's front-line healthcare workers.  It was spearheaded by those who are part of Britain's National Health Service but ended up being an international group.
Breathe Harmony is a non-auditioned choir with members coming from a range of health disciplines including – doctors, nurses and health care assistants, scientific staff, therapists, administrators and support staff, students and volunteers.. The Breathe Harmony choir joined with the Guy's and St Thomas' National Health Service staff choir and others from around the word in creating the recording of Mariah Carey's 'Anytime You Need a Friend' in partnership with Musical Director Mike King and MyCool Music Foundation.

The 100 musicians and singers came from across the world with participants from the UK, USA, Barbados, Canada, Italy, Spain, Poland, South Africa, Australia, France, Belgium and Greece. These individuals have joined together through weekly virtual rehearsals, submitting individual home recordings on their mobile phones, to create a global message of solidarity and support.   It was produced by Musical Director Mike King.    King said in an interview that it was a time to uplift people when so many people are isolated in their homes and while so many healthcare workers are under such tremendous stress.