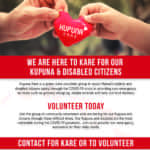 With the COVID-19 pandemic, Hawaii's kupuna, or elderly population, or those who are disabled or don't drive,  need help now more than ever. Social distancing and stay-at-home orders are most crucial, especially for persons over the age of 60, as they are most susceptible to develop serious complications due to the virus.  Kupuna Kare is a grassroots volunteer network aimed at delivering non-emergency supplies to those in this high-risk group.
On the Big Island, Paul Sakamoto of Hilo is spearheading the effort.  Though still working in I.T. for the State Department of Education, he's helping create the list of those who need deliveries, and those who can do shopping and delivery.  He said the organization is working to assist people anywhere on the island.
Supplies include groceries, prepared food, toiletries, and household goods. Volunteers are matched with kupuna or those unable to drive or the disabled by geographic location, and put in direct contact. Volunteer and kupuna can work out their individual details, such as their shopping/food list and details on reimbursement.   Sakamoto says the volunteers are background-checked.  He says generally the recipient decides on a no-contact point of delivery, such as the lanai or garage, and leaves the check for reimbursement there, also.
Kupuna Kare is a statewide organization.  On  the Big Island, if you would like some help with shopping and deliveries, or if you wish to volunteer anywhere on the island, call Paul Sakamoto at  808-938-9835 or email volunteerbigisland@kupunakare.com     You can request assistance on other islands or learn more about the organization at kupunakare.com