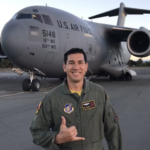 State Senator Kaiali'i Kahele is now serving on  active duty as a lieutenant colonel with the Hawai'i Air National Guard, United States Air Force.  Sen. Kahele  — Lt Col. Kahele — volunteered for active duty in the state starting April 4, 2020.   He will be working with other members of the Guard to address the state's  COVID-19 pandemic issues.
Kahele is an 18 year veteran, pilot and commissioned officer in the Hawai'i Air National Guard, United States Air Force.  He has logged over 2,000 hours of military flight time and has commanded dozens of combat missions.  He also works as a  pilot for Hawaiian Airlines, in addition to serving as one of the Big Island's four Senators  in the Hawaii State Senate, representing Hilo.
Kahele, born and raised on the Big Island, is a graduate of Hilo High School and the University of Hawai'i at Mānoa.
Kahele's state senatorial staff will continue to serve the Hawai'i Island community while he undertakes his mission. He is also a registered candidate for the 2nd Congressional District of the U.S. House of Representatives, and his campaign will continue operations during this period.