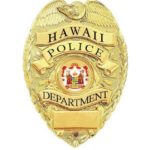 The Hawaii County Police have been actively enforcing Governor David Ige's "stay at home" order during the COVID-19 pandemic, which means that people are required to stay at home or wherever their place of residence is except if involved in an essential business or shopping for essential supplies or going to a medical appointment or going out for exercise.   The Director of the Hawaiʻi Emergency Management Agency (HIEMA) or Hawaii County Civil Defense (808-935-0031) can provide more information on exceptions.
Hawai'i Police Department citations and arrests relative to the order are primarily in connection with non-compliance after verbal warnings or when in conjunction with unrelated calls for service.
Between April 15 and 21, 2020, specific to the offense of "Prohibited Acts" (Emergency Management), Hawaiʻi Police Department officers arrested 15 persons, cited 53 persons, and initiated criminal cases against 2 persons (total of 70 violations), broken down by district as follows:
South Hilo District:  7 persons arrested, 11 persons cited
Kona District:  6 persons arrested, 21 persons cited
South Kohala District:  2 persons arrested, 4 persons cited, 2 criminal cases
Puna District:  8 people cited
Kaʻū District:  5 persons cited
Hāmākua:  4 persons cited
During this past week:  Other unrelated criminal offenses, which prompted the police response and subsequent arrest of the suspects, involved Burglary, Unauthorized Entry into Motor Vehicle (UEMV), Theft, Assault, Trespassing, Contempt Warrant, Disorderly Conduct, Place to Keep Firearm, Open Lewdness, Resisting order to stop Motor Vehicle, and Operating a Vehicle Under the Influence of Intoxicants/DUI.  Some of the behavior exhibited by violators to whom citations were issued consisted of disregarding repeated warning by police, traffic/motor vehicle offenses, congregating/loitering on/alongside the road, or at a park/beach area.
The Hawaiʻi Police Department three week combined total enforcement stands at 232 individual offenses (55 arrests, 168 citations issued, and 9 additional cases)