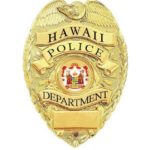 Hawaii County Police on  Wednesday afternoon arrested three people and cited one for violating the state's mandatory  incoming arrival quarantine (Prohibited Acts under Emergency Management).
Hawaiʻi Island Police received a report at around 3:14 p.m. yesterday afternoon of four visitors from Washington State who had recently arrived on Hawaiʻi Island breaking the state's mandatory 14-day quarantine for visitors. All four visitors arrived on Hawaiʻi Island on Tuesday, April 21, and checked into a hotel on Banyan Drive that evening. The visitors were observed outside of their rooms and walking on foot outside the hotel. Officers made area checks and were able to locate the four visitors at the hotel pool, outside of their room and in direct violation of the 14-day quarantine rule.
Police arrested 27-year old Matthew Young, 39-year old Caleb Conrad, and 24-year old Makynzie Anderson, all of Washington State.  All three were subsequently charged, posted bail of $500.00 each, were released and given a court date. A 39-year old female visitor from Washington State was also issued a citation for violating Prohibited Acts under Emergency Management.
All four parties were asked to leave their hotel and were required to find alternative lodging.