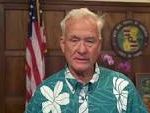 Governor Ige said with the new cases of COVID-19 on the decline, he and the four County Mayors have been discussing ways to reopen segments of the economy, specific businesses, while continuing the distancing and isolation and hygiene practices that are helping the state keep the COVID-19 count relatively low.
Gov. Ige said each Mayor will decide what works best for his island, and that the Mayors and the Governor will be in agreement with the steps as they are announced.
The first Mayor to announce a relaxation of shutdown rules was Mayor Kirk Caldwell of the City and County of Honolulu.  He said on the island of O'ahu, some businesses will be allowed to reopen starting Thursday, April 30, at 4:30.   They include:
-Certain real estate services, provided property sales and management activities are done by remote/electronic means whenever possible.
-New and used car and truck dealerships, both sales and leasing activities — with restrictions.
-Automated service providers, such as fully automated car washes, that don't require human interaction between the service provider and the customer.
-Mobile service providers, businesses that provide service on a mobile basis without interaction between the service provider and the customer, including, but not limited to, mobile pet grooming and car washing/detailing businesses.
-Services provided on a one-one-one bases, including private tutoring, certain music instrument lessons, etc., on a one-on-one basis, that comply with social distancing requirements.
-Public and private golf courses within the city operating in accordance with guidelines laid out in the Professional Golfers' Association's "Procedures for Reintroduction to the Game and Business of Golf" as may be updated/amended.
-Grave site visits.
The City and County of Honolulu has posted a guide for businesses on O'ahu which are open or which will be reopening.