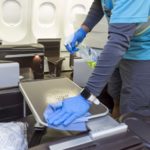 Hawaiian Airlines will require all passengers to wear a face mask or covering that covers the nose and mouth, starting Friday, May 8.  The exceptions are young children who are unable to keep a face covering on or guests with a medical condition or disability preventing its use. This new requirement will apply from check-in at the airport to deplaning at the destination.  Disposable face masks will be available at check-in counters and gates for passengers who may not have a face covering.
Hawaiian Airlines is also working to help passengers and staff maintain the appropriate social distancing.  Also starting May 8, the airline will pre-board passengers in First Class or those who need assistance, but will ask everybody to remain seated and not line up.  They will board passengers from the rear of the aircraft in groups of three to five rows at a time.   The airline is also manually assigning seat to increase personal space onboard.   They will soon stop booking middle seats on their jets and adjoining seats on the ATR 42 turboprop aircraft.   Hawaiian also may reassign seats at boarding to help with maintaining social distancing.
The airline says it is also cleaning planes thoroughly.  Hawaiian began using electrostatic spraying to more comprehensively and evenly clean aircraft cabins with hospital-grade disinfectants, registered with the Environmental Protection Agency, that coat hidden and hard-to-reach surfaces. The electrostatic treatment, which dries in five minutes, is applied nightly on Boeing 717 aircraft that fly between the islands, and prior to each departure from Hawaii on Airbus A330 and A321neo aircraft, which serve transpacific routes.
In addition to the electrostatic spray, they disinfect the cabins of our aircraft after each transpacific flight. Iterisland aircraft are cleaned after every flight into Honolulu and disinfected nightly. If a passenger is identified as being seriously ill on any flight, the enhanced cleaning procedures adhere to guidance by the Centers for Disease Control and Prevention (CDC) and World Health Organization (WHO), including extra disinfection along with providing personal protective equipment for cleaning crews.
Flight attendants will wear gloves and masks, and in-flight procedures have been modified to provide better hygiene and less contact.