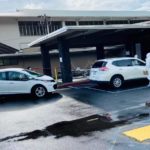 There is drive-through screening and testing for COVID-19 today at Waimea District Park, Saturday at Kamehameha Park in Kapa'au, and Monday in Hilo.  The COVID-19 testing is with a swab to the back of the nose and throat.  In addition, antibody testing, which is a blood draw, will be offered.
-Today, Friday, the drive through screening and testing is at Waimea District Park from 9:00 a.m. until 1:00 p.m.
-Saturday, the drive through screening and testing is at Kamehameha Park in Kapa'au, North Kohala, from 10:00 a.m. until 2:00 p.m.
-Monday, May 18, the drive through screening and testing is at Hilo Civic Auditorium, 9 a.m. until 1 p.m.
The testing is being conducted by Premier Medical Group with support from Hawaii County and other organizations.
On-site physicians will screen those wanting a COVID-19 test for symptoms or exposure.  There is no charge for the COVID-19 tests.  The antibody tests have a $43 co-pay, which may be covered by insurance.  Everybody must bring a photo ID, and insurance card if you have insurance.
COVID-19 symptoms:    The screening criteria will be based on guidance of the CDC and the State's COVID-19 Response Task Force.  According to the CDC, testing priority should be given to those with symptoms of potential COVID-19 infection, including: fever, cough, shortness of breath, chills, muscle pain, new loss of taste or smell, vomiting or diarrhea, and/or sore throat.  But the CDC defers to state authorities and on-site clinicians for the final decision.  The State Department of Health lists the same symptoms, but adds rhinorrhoea, which is defined as a condition where the nasal cavity is filled with a significant amount of mucus fluid — or commonly known as a runny nose.  The state also adds anorexia, defined as a loss of appetite.  The State also adds as a high priority, persons identified through public health cluster and selected contact investigations — but does not say they must have symptoms.
Dr. Scott Miscovich of Premier Medical Group says he is very interested in antibody testing those who have had COVID-19 to see what their level of antibodies is, people who had coughs and fevers and other COVID-19 symptoms but were never diagnosed with COVID-19 because testing was unavailable or they were denied, first responders and healthcare workers and others who may have had exposure to large numbers of possible, and family members and close contacts of those who were confirmed with COVID-19 but were never tested.  Click here for more information from an interview with Dr. Miscovich.