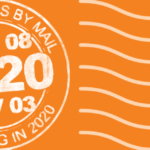 A total of 16 candidates are running for Hawaii County Mayor, at a time the county is facing some of its biggest challenges ever with the island's unemployment rate more than 25%, tourism at a standstill, the economy challenged with the COVID-19 shutdowns, and the threat of the virus still present.
The election that could determine the county's next mayor is August 8, 2020, but with all voting now by mail, people should mail their ballots by August 5 to ensure they arrive at the elections office by Saturday, August 8.  There will also be drop boxes where people may physically deposit their ballots, but none of the usual polling places will be available.  There will be two "Voter Service Centers" for those with special needs to vote, if they cannot fill out their ballot and vote by mail.
Candidates who have filed:
-Neil Azevedo
-Paul Bryant
-Bob Fitzgerald
-Michael (Mikey) Glendon
-Kelly Greenwell
-Stacy Higa
-Wendell Ka'ehu'ae'a
-Yumi Kawano
-Harry Kim
-Ikaika Marzo
-Mitch Roth
-Mike Ruggles
-Ted (Toku San) Shaneyfelt
-Tante Urban
-Lahi (Marlin) Verschur
-James M. (Jiro) Yuda
If any of these nonpartisan candidates get more than 50% of the vote, that candidate will become the Mayor (as did Harry Kim in 2016, beating out 12 other candidates in the Primary).   If nobody gets more than 50%, the top two vote-getters will advance to the General Election on November 3, 2020.
All voting will be by mail this year, a legislative decision made well before the onset of COVID-19.  Ballots will be out around July 21, 2020, and people need to mail them back or drop them at the County Elections office in enough time to be in the office by Saturday, August 8 at 6 p.m.   Any ballot received after that time will not count.
Everybody registered should have received a yellow signature verification card that must be returned to confirm your current signature.
If you need to register, need a new yellow signature card, or have any questions, go online to elections.hawaii.gov or call the Hawaii County Elections Office at 808-961-8277.
For an interview with Hawaii County Elections Administrator Pat Nakamoto about the new voting by mail process, click here.
For an interview with Dr. Todd Belt of George Washington University in Washington, D.C. about the potential for fraud in voting by mail, what the result has been elsewhere, and more, click here.