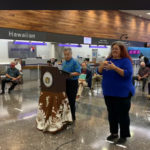 Governor David Ige today announced a change for travelers coming in from out of state effective Saturday, August 1.  As of that day, travelers from out of state who voluntarily take a COVID-19 test and prove negative for the virus prior to coming to Hawaii will not be subject to the 14-day quarantine.  The test will have to be done within 72 hours of travel.
Those travelers who choose not to have a test in advance of coming to Hawaii will still be subject to the mandatory 14-day quarantine.
Gov. Ige said the state has adequate hospital, ICU beds, and ventilator capacity to handle a surge of COVID-19, if there should be one.  But everybody needs to ensure they and their children stay home if sick, and if out, wear a mask when with others, stay 6 feet or more away from others even when wearing a mask, and wash their hands frequently.
Lt. Gov. Dr. Josh Green said our ICU bed use is at 47% of capacity, and our ventilator usage is only 18%.   He acknowledged that there will be more cases in the state, but with adequate hospital capacity, the state can handle those  who might need hospitalization.  State Health Director Bruce Anderson said right now, there are only 23 COVID patients in critical care and only 3 on ventilators.
He said the state has been working with CVS since they currently have more than 1,000 locations where people on the mainland could get tested.  The State will have direct access to the CVS traveler testing database to confirm the testing.  LG Green said the state is willing to work with other vendors, as well.
LG Green said he and the team are working on protocols for local residents who take a short trip out of state and return within a week.  He also asked residents to be smart and stay away from situations where they might be infected.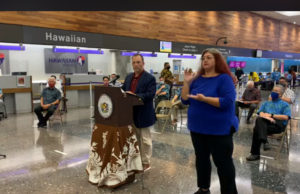 Photos are L.G. Josh Green (above) and Gov. David Ige (attached) from the Wednesday, June 24 press conference at the Daniel K. Inouye Airport.